Customers Who Viewed This Item Also Viewed
Product Description
Dr.Ganja CBG Isoate is Tested for Cannabinoids, Pesticides, Microbials, Mycotoxins, Heavy Metals, Residual Solvents & Foreign Matter.
What's In Your Bud?
About as clean and pure as you can get, Dr. Ganja's CBG Isolate is the best thing you haven't yet heard of.
CBG is considered a minor cannabinoid due to the small amounts typically present in hemp. That certainly doesn't mean that its effects are minor though, as many scientific trials involving CBG has found its effectiveness in inhibiting cancer cell growth, stimulating appetite, and reducing inflammation SURPASSED many other cannabinoids, including CBD in some cases.
The hard-to-come-by CBG is present here in pure powder form for convenience of use. It can be mixed in with your cooking, drizzled in to your favorite skincare items, added to smoothies for increased post-workout healing, applied directly under the tongue, or vaped or dabbed for immediate effects. As is usual, consuming CBG orally will take approximately 1/2 hour to an hour for maximal effects, but vaping or dabbing it will have you feeling the effects almost instantly.
Since this is a pure isolated product, you won't find THC or any other plant materials from the hemp plant, only pure and clean cannabigerol.
999mg of quality, purity, and safety-tested CBG
CBG's medical benefits have shown to surpass many of the currently used cannabinoids
The CBG here is in easy-to-use powder form: you can bake with it, add it to smoothies, drop some in to your skincare items, or vape and dab it for enhanced results!
Made from USA grown hemp
It has several uses: apply under the tongue, mix with oil, include in recipes, add to a skincare cream, mix with a CBD isolate for stronger effects, dab, or vape it!
Product Size
1 Gram 999mg CBG
Suggested Use
The options are nearly limitless! Add this product to a joint, a dab rig, in your favorite seed oil, mixed into a skincare lotion, your favorite brownie recipe, or straight under your tongue.
Ingredients
99% Pure CBG Isolate derived from hemp oil
Recent Items Viewed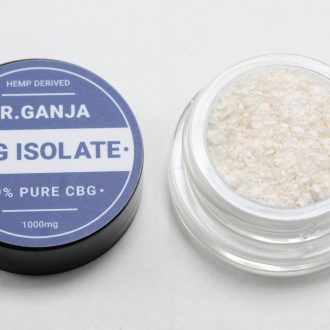 Cannabigerol (CBG) touts many of the same medical benefits as CBD, and then some. CBG even outperformed many other cannabinoids in scientific trials in antibacterial properties, appetite stimulating properties, and inflammatory characteristics! So if you haven't heard of CBG much yet, you will soon! This CBG isolate powder is the purest form of CBG and incredibly versatile. You can place some of the isolate powder under your tongue, smoke or dab it, make your own CBG oil, add it to skincare items, or even add it to your homemade edibles for enhanced effects.