Customers Who Viewed This Item Also Viewed
Product Description
When it comes to smoking hemp, it's essential to have fresh, aromatic, potent flower. And to have it inside a convenient CBD joint, with an effective filter. These qualities increase the enjoyment factor by making the smoking experience top-notch. This is what the ELLZ Classic hemp cigarettes are all about.
To make sure its flower is of the highest quality, the company sources the best of the best. Here's what that means. ELLZ hemp flower comes from organically raised and treated fields, grown by experienced and licensed farmers in the United States. The flower gets harvested, dried, and cured to perfection to ensure a high terpene content (i.e. great smelling herb). Also, the organic standard of these plants means there are no traces of pesticides, GMOs, heavy metals, mycotoxins, or microbial contaminants.
As a quality control measure, you can scan the QR code on the back of the box to see exactly what is in the hemp and what is not. By holding your smartphone over the code, you'll gain access to a link that brings you to the third-party lab reports. This is where you can verify the cannabinoid content and the results from the toxin and chemical testing.
In addition, there are 18 individual CBD cigarettes in the box and they have a sweet-looking spirally filter, but it's not just for looks. It also prevents any little piece of ground-up flower from coming through. The filter is really good at giving you smooth, fluid hits as well. Even with a strong inhale, there's no uncomfortable throat hit.
Lastly, these hemp joints contain about 0.8 gram of flower, so they can last you a few smoke sessions, one really long smoke sesh, or better yet, you can pass it around with your friends because there's enough to go around. Just like the labeling on the box says — prepare to relax and enjoy!
Product Size
18 hemp cigarettes with 0.8 gram hemp flower in each
Suggested Use
Light the end of the hemp cigarette and take a few puffs to start. Wait several minutes for the effects to settle in and then decide whether you'd like some more. For experienced CBD smokers, you may want to enjoy half of the joint or even more.
Ingredients
CBD hemp flower
Notes
Hemp grown in the USA
Recent Items Viewed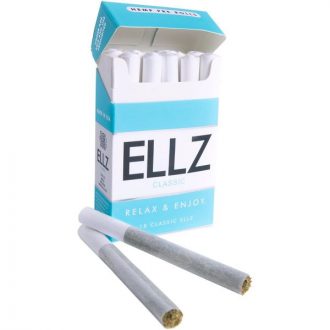 The ELLZ Classic hemp cigarettes are made with a lot of love and a passion to create something magical for all those who smoke them. One box has 18 individual hemp joints that come in a secure box with a pop-top lid. They're all nicely tucked inside, just waiting to be smoked and enjoyed. Each CBD cigarette contains 0.8 gram of USA-grown hemp flower and there's a unique, spiral designed filter on the end that makes each hit velvety smooth. These Classics are the go-to CBD pre-rolls to smoke when it's time to have fun, get stuff done, or wind down. Any occasion is the perfect occasion.