Customers Who Viewed This Item Also Viewed
Product Description
This is the perfect CBD product for those looking to get creative with their CBD! You can easily add this CBD isolate to baked goods, drinks, confections, joints, dabs, you name it! Since this is CBD isolate, this tiny jar can be taken anywhere without suspicion, there is no smell and no THC!
Don't let the cheap price tag fool you, this is high-quality CBD. For this affordable price, you're getting cannabidiol derived from hemp-oil that is grown in the USA and is purity and potency tested, as all CBD should be.
That's the Dr.Ganja way.
Dr.Ganja CBD Isolate is Tested for Cannabinoids, Pesticides, Microbials, Mycotoxins, Heavy Metals, Residual Solvents & Foreign Matter.
• 994mg CBD total
• CBD in an easy-to-use crystalline/powdered form
• Perfect for food, drinks, baking, or even dabs and joints
• Dr.Ganja-tested for safety
• Made from USA grown hemp
• Sprinkle on salads, drop some in your coffee in the morning, add some healing power to your baking!
• Can also be mixed in to your favorite skin-care products for topical use Interested in other CBD isolates or ways to get your CBD? Check out our CBD-health page!
Product Size
1 Gram 995mg CBD.
Suggested Use
The sky is the limit! This can be added to just about anything you can think of: a joint, dabbed, in your favorite shake, mixed into skin-care products, in your favorite cake recipe, sprinkled into your salad dressing.
Ingredients
99% Pure CBD Isolate derived from hemp oil.
Recent Items Viewed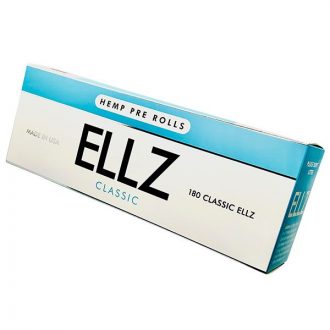 The 10 pack of ELLZ Classic contain 18 individual hemp joints in each secure box that comes in a secure box with a pop-top lid. They're all nicely tucked inside, just waiting to be smoked and enjoyed. Each CBD cigarette contains 0.8 gram of USA-grown hemp flower and there's a unique, spiral designed filter on the end that makes each hit velvety smooth. These Classics are the go-to CBD pre-rolls to smoke when it's time to have fun, get stuff done, or wind down. Any occasion is the perfect occasion.