Customers Who Viewed This Item Also Viewed
Product Description
The best CBD pre-rolls stand apart because of their uniqueness. And with ELLZ there's a lot of qualities that make them unique. For starters, the rolling paper is made with a secret, proprietary recipe of plant-based, organic ingredients, including parts of the hemp plant. Lots of other companies use pre-rolled cones instead, but they burn quickly and don't add any additional flavor.
However, the handmade wrap used for the ELLZ has a natural flavor and is thick like a blunt, which makes the joints burn slower. Also, a real person rolls each one of these CBD blunts by hand after grinding up the hemp flower. This hemp flower is sourced from U.S. farms that utilize organic growing methods. So, there are no GMOs and no pesticides, heavy metals, microbial contaminants, or mycotoxins. Just a plant that grows from the earth exactly as it was meant to.
To verify the purity of this product, and the potency as well, you can read the third-party lab reports. You can find them through the online shop or by scanning the QR code located on the pouch. The potency test will show you there's less than 0.3% Delta-9-THC, so there's no intoxicated feeling — only a blissful wave of relaxation and joy.
Product Size
2 hemp flower pre-rolls with 1 gram of CBD flower in each one.
Suggested Use
Light the end of the CBD blunt and take a few hits. Pause for a few minutes, then continue to smoke if you want deeper, more relaxing effects.
Ingredients
CBD hemp flower and a natural flavored hemp wrap.
Note
Grown in the USA.
Recent Items Viewed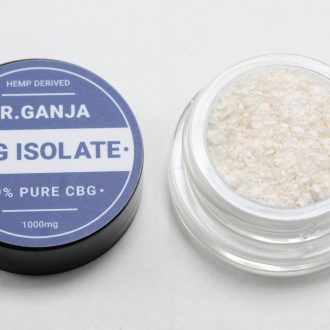 Cannabigerol (CBG) touts many of the same medical benefits as CBD, and then some. CBG even outperformed many other cannabinoids in scientific trials in antibacterial properties, appetite stimulating properties, and inflammatory characteristics! So if you haven't heard of CBG much yet, you will soon! This CBG isolate powder is the purest form of CBG and incredibly versatile. You can place some of the isolate powder under your tongue, smoke or dab it, make your own CBG oil, add it to skincare items, or even add it to your homemade edibles for enhanced effects.