Customers Who Viewed This Item Also Viewed
Product Description
A hybrid hemp strain that walks the line of uplifting and sedating, OG Lime is great for any time of day. Well cured and aptly named, the lime character shines through on first contact and its slightly sour pungency gives you a taste of what's to come. This strain has creeper qualities meaning that OG Lime's full effects continually build until both mind and body relaxation is achieved. If you're looking for a strain that walks the tightrope of calm and uplifting, stimulating and yet slightly sedating, OG Lime is the one for you.
What's in your bud?
Genetics
TBD
Appearance
Dense nuggets of greens with the occasional orange and brown hairs. Pulling apart the flower shows a trichrome-laden underbelly.
Smell
OG Lime smells as if a lime, incense, and diesel fuel had a three-way. This flower smells very strong.
Taste
We put this in almost all our flower descriptions, but if you're looking for taste then you need to vaporize, not combust. There are notes of citrus fruit and sweet grass with a woody finish.
Effects
While the cerebral effects might be the first thing you notice after consuming OG, the body soon follows. This is an interesting strain in that she lets you know exactly where you're holding muscle tension. The mind and body combo take effect with a bit of time and lends a nice and pleasant euphoria with stimulating undertones.
Packaging & Shipping
Packages are double-wrapped and packed in airtight mylar bags. There is no smell or odor. All the products we carry at Dr.Ganja are shipped quickly and discreetly.
Wondering if we can ship to you? Check out our shipping info.
Product Size & Info
Dr.Ganja OG Lime CBD Flower is available in 2 gram, 3.5 grams, 7 grams, 1 ounce and 8 ounce size increments. It's contains less than 0.3% Delta 9 THC.
Note
Grown in the USA.
Technical Specs
Cannabinoid Profile
CBDA 18.870%
CBD .684%
CBGA .643%
CBC .155%
D9-THC <LOQ
THCA .729%
Total Measured Cannabinoids 18.436%
Top 3 Terpenes
β-Myrcene, α-Pinene, β-Caryophyllene
Terpene Profile
beta-Myrcene .83%
alpha-Pinene .15%
beta-Caryophyllene .13%
alpha-Bisabolol .09%
delta-Limonene .08%
beta-Pinene .07%
Guaiol .06%
Ocimene .04%
alpha-Humulene .04%
Total Measured Terpenes 1.50%
Pesticides
No pesticides detected. We test all of our flower at Dr.Ganja to make sure what you're consuming is pure and safe. Check out the attached safety pesticide lab reports.
Microbials
This flower was tested for microbial impurities and yielded immaculate results, no microbial activity of any kind.
Mycotoxins
This flower was also tested for mycotoxins and all tests came back negative, none detected.
Heavy Metals
Wholesale Dr.Ganja OG Lime CBD flower was examined for heavy metals.
Recent Items Viewed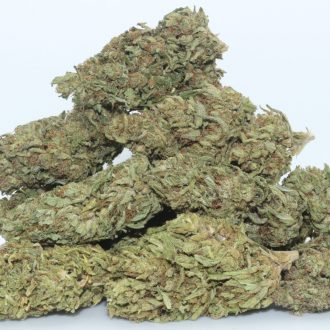 If you see OG in the name, you already know it's going to be good. OG Lime is a newcomer whose citrus smell and taste is a reminder of its terpene-heavy heritage. This strain holds a nice balance between indica and sativa effects, just as a hybrid should.