Customers Who Viewed This Item Also Viewed
Product Description
As the name denotes, Lifter is a strain whose mood-enhancing and energizing qualities make it a great daytime or all-day strain. Lifter "uplifts" the spirits and has even been reported to help users with pain and inflammation. A sativa-dominant strain, Lifter's genetics are rock solid and continually pump out a varying degree of cannabinoids including cannabidiol, cannabigerol, and cannabichromene.
Lifter Trim and Shake seen here is a great option for buying in bulk and for those wanting to dabble into making their own extracts, oils, or edibles without breaking the bank. For the unaware, trim is composed of leaves that have been cut off during the growing process and shake is composed of stems, kief, some leaves, and partial buds. The occasional seed allows for growth if planted under the right conditions.
Like every other Dr.Ganja item, this product is shipped discreetly and directly to you. Contains less than 0.3% Delta 9 THC, so you won't feel the intoxicating effects of THC while supplementing with CBD.
Product Size & Info
Dr.Ganja Lifter trim and shake is available in 1 pound weight increments.
Note
Grown in the USA
Technical Specs
Cannabinoid Profile
CBDA 18.1146%
CBD .4826%
CBGA .4237%
CBC .0554%
D9-THC - ND
THCA .6196%
Total Measured Cannabinoids 19.6959%
Recent Items Viewed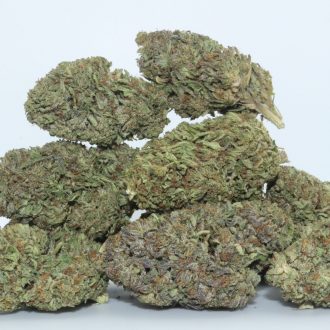 The Bubba Kush strain is known worldwide for its relaxing qualities. With beautiful pine and dark green hues and a deep earthy smell, this dense flower is a treat for all the senses.