Customers Who Viewed This Item Also Viewed
Product Description
It's all in the name for Lifter: this delicious-smelling hemp flower will melt fatigue and lift the spirits! A cross between Suver Haze #50 and Early Resin Berry, its unique aroma will be the first thing you notice upon meeting for the first time: skunky and yet sweet at the same time. However, the smell isn't its only redeeming quality, as Lifter is packed with β-Myrcene and β-Caryophyllene.
Genetics
Suver Haze #50 x ERB (Early Resin Berry)
Appearance
Its buds seemed as though they were stretched vertically; they're very long and wisp-like. Despite their elongated shape, the nugs are dense and frosty, covered in trichromes.
Smell
A dominantly earthy smell is supported by subtle floral notes with a tiny hint of sourness. The smell is very pleasant and woody, it makes you want to keep sniffing.
Taste
The taste, much like the smell, is earthy. It tastes like sweet grass and wood and bark. It works amazingly well in a vaporizer too!
Effects
This is one of the most cannabidiol rich flowers we sell at Dr.Ganja at 21.90% CBDA and .51% CBD, but it is rich in cannabinoids other than CBD too, such as cannabigerol (CBG) and THCA! These help in potentiating the product's energizing effects.
When you need a pick me up, like a cup of coffee without the jitters, this hemp strain is perfect.
Packaging & Shipping
All hemp is double-wrapped and packed in airtight mylar bags. There is no smell or odor. All of the CBD flower we carry at Dr.Ganja is shipped quickly and discreetly.
Wondering if we can ship to you? Check out our shipping info.
Product Size & Info
Dr.Ganja Lifter CBD Flower is available in 2 gram, 3.5 grams, 7 grams, 1 ounce and 8 ounce size increments. It's contains less than 0.3% Delta 9 THC.
Note
Grown in the USA.
Technical Specs
Cannabinoid Profile
CBDA 20.030%
CBD 1.173%
CBGA .676%
CBG .090%
CBC .109%
D9-THC .166%
THCA .715%
Total Measured Cannabinoids 20.322%
Top 3 Terpenes
β-Myrcene, β-Caryophyllene, α-Humulene
Terpene Profile
beta-Myrcene .60%
beta-Caryophyllene .36%
alpha-Humulene .13%
alpha-Bisabolol .11%
alpha-Pinene .09%
Limonene .06%
Linalool .05%
Trans-Nerolidol .05%
beta-Pinene .04%
Guaiol .04%
Ocimene .03%
Total Measured Terpenes 1.57%
Pesticides
No pesticides detected. We test all of our flower at Dr.Ganja to make sure what you're consuming is pure and safe. Check out the attached safety pesticide lab reports.
Microbials
Lifter hemp flower was tested for microbial impurities and yielded immaculate results, no microbial activity of any kind.
Mycotoxins
Lifter CBD flower was also tested for mycotoxins and all tests came back negative, none detected.
Heavy Metals
Lifter CBD hemp flower was examined for heavy metals.
Recent Items Viewed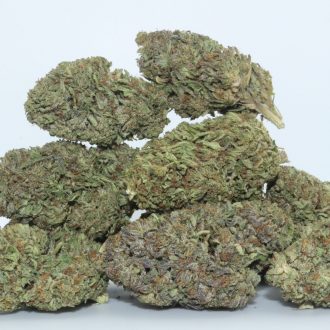 The Bubba Kush strain is known worldwide for its relaxing qualities. With beautiful pine and dark green hues and a deep earthy smell, this dense flower is a treat for all the senses.