Customers Who Viewed This Item Also Viewed
Product Description
Hawaiian Haze CBD flower is a cross between DC Haze and ERB. This beautiful evergreen and purple-splashed diamond in the rough was created with the goal in mind to create one of the highest-yielding cannabidiol (CBD) oil plants on the planet.
That's not to say this flower doesn't do well being consumed straight up, as the flavors and effects coming from Hawaiian Haze are sure to please. No doubt in thanks to the high and diverse terpene and cannabinoid content, HH flower supplies 14mg of terpenes per gram as well as a healthy dose of 6 unique cannabinoids.
If you're interested in trying other CBD flower from Dr.Ganja, check out our CBD flower page!
Genetics
DC Haze x ERB
Appearance
Mixed greens from light to dark teal are blended in with the occasional purple. Perhaps more importantly, these nugs are frosty and when held up to the light, the plentiful trichromes shine in all their glory.
Smell
Hawaiian Haze has a bit of a fainter smell than some of the other flower here at Dr.Ganja, but this subtlety makes it all the more enticing. It is woodsy and citrusy or piney with a hint of sweetness; perfect for those who desire to be a little more discreet.
Taste
Hawaiian Haze CBD flower is gentle in all the right areas. The taste, too, isn't overpowering and is very easy on the throat and lungs when consumed. Similar to its aromatic characteristics, the taste is subtle but there is something very alluring about it. Earthy, a bit of sour hay, with a finish of sweet candy.
Effects
Where this flower really shines is in the effects department. Immediately after consumption, pain, achiness, and stress melt away. Some strains take awhile to pick up speed, but not Hawaiian Haze. It is also diverse in that if you smoke a smaller amount, you get effects that are more sativa-like or energetic, while if you smoke a larger amount you get a more mellow or sleepy feeling, much more along the lines of an indica. In fact, many of our users report that HH works great as a night-time aid.
Packaging & Shipping
All hemp is double-wrapped and packed in airtight mylar bags. There is no smell or odor. All of the hemp flower we carry at Dr.Ganja is shipped quickly and discreetly.
Wondering if we can ship to you? Check out our shipping info.
Product Size & Info
Dr.Ganja wholesale Hawaiian Haze CBD hemp flower is available in the following size variants 1 gram, 3.5 grams, 7 grams, 14 grams, 1 ounce, 8 ounce and pound size increments which is subject to change. It's tested at 18.4% CBDA and contains 0.3% Delta 9 THC or less.
Note
Grown in the USA.
Technical Specs
The lab reports can also be found in the images above.
Cannabinoid Profile
CBDA 21.62%
CBGA .49%
CBD .36%
CBG .08%
CBC .04%
D9-THC ND
THCA .68%
Total Measured Cannabinoids 23.72%
Top 3 Terpenes
β-Myrcene, β-Caryophyllene, α-Pinene
Terpene Profile
alpha-Bisabolol .0166%
beta-Caryophyllene .32%
beta-Farnesene .024%
Fenchol .0190%
Guaiol .037%
alpha-Humulene .069%
limonene .109%
linalool .031%
beta-Myrcene 2.3%
cis-beta-Ocimene .056%
alpha-Pinene .22%
beta-Pinene .090%
alpha-Terpineol .024%
Terpinolene .040%
Total Measured Terpenes 3.4%
Pesticides
No pesticides detected. We test all of our flower at Dr.Ganja to make sure what you're consuming is pure and safe. Check out the attached safety pesticide lab reports.
Microbials
This flower was tested for microbial impurities and yielded immaculate results, no microbial activity of any kind.
Mycotoxins
This flower was also tested for mycotoxins and all tests came back negative, none detected.
Heavy Metals
Dr.Ganja Hawaiian Haze CBD flower was examined for heavy metals.
Recent Items Viewed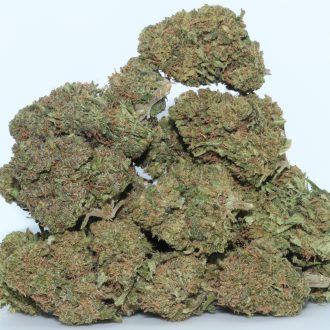 DrGanja Cherry Abacus wholesale is a dense and potent new hemp strain. The high levels of cannabinoids and terpenes such as myrcene make it a great choice for those looking for relief or those looking to unwind after a stressful day.