Customers Who Viewed This Item Also Viewed
Product Description
When you're thinking about buying a vape cartridge, there are some important qualities to consider. For instance, you'll most likely want an all-natural formula and one with a decent potency. Also, making note of the flavor profiles is important too. As we jump into the specifics of Elev8ted's Vape Cartridge, we'll cover all these points in-depth and include some other details.
How about we start by bragging about the naturalness of this product. There are no additives or agents to cut down on the potency or flavor profile of the formula, which is awesome. That means it's free of MCT oil, PEG, PG/VG, Vitamin E, and all other types of agents. And instead of using artificial or natural flavors, the cart includes botanical-derived terpenes from a company called Eybna, based in Israel. As a country known for making huge advancements for "cannabis as medicine," this is a great company to source terpenes from.
The specific selection of terpenes mirrors those in the Purple Punch cannabis strain. As a cross between Larry OG and Granddaddy Purple, this Indica dominant hybrid inherited the fruity, grape-like flavors from its parents. But, it also has wonderful sour, earthy, and honey notes to round out and amplify its tasting profile. In addition, the terpene myrcene makes up almost half of the terpene profile, and this terpene is also found in mangos, lemongrass, hops, and chamomile.
Even more, there's a strong potency in this vape cart, with 94% Delta 8 distillate. This works out to a high dose of this psychoactive cannabinoid, which is said to express uplifting and relaxing properties. Once this product arrives at your home, simply twist it onto a compatible vape pen and take your first inhale. Remember to start slow, as it has a powerful potency and cannabinoid.
What is Delta 8 THC?
Cannabinoids are chemical compounds secreted from cannabis plants as resin. They have the ability to interact with our body's Endocannabinoid System (ECS). Delta 8 THC is a cannabinoid that occurs in much smaller concentrations than most other cannabinoids.
Delta 8 is an isomer that forms as Delta-9 THC ages and oxidizes. This process increases the stability of the Δ8 molecular structure so that it does not degrade as easily and lasts much longer over time.
Delta-8 THC and Delta 9-THC contain similarities in their molecular structure. Both contain double bonds, but D8 contains the bond on the 8th carbon chain and not on the 9th. For that reason, D8 and D9 THC react similarly within the Endocannabinoid receptors in the body as a result of their similar presentation of structure and properties.
D8 requires an intricate process of extraction, isolation, conversion, and refinement. With Δ8 there are benefits and effects to serve both medicinal and recreational consumers. Because D8 occurs in smaller concentrations, it's common to see it sold in the form of distillates or edibles.
The compound Δ8 legally derives from hemp and contains less than 0.3% Δ9-THC in accordance with the Agricultural Improvement Act of 2018 (also known as the 2018 Farm Bill). Within the Bill, it states that all derivatives, isomers, and cannabinoids in hemp are federally legal provided that all final products contain less than 0.3% D9 THC.
If you are subject to routine drug screenings, do not consume Δ8-THC.
Each state has its own separate laws regarding hemp products. Please be aware of the laws within your state/province of residence.
Psychotropic potency of Delta 8 THC will often vary. For this reason, please do not operate a vehicle after consuming Δ8 products.
Consult your doctor before use.
Product Size
1ml
Suggested Use
Twist the vape cartridge onto your battery and take a small pull. Hold the vapor in for a few seconds and then exhale. Allow some time to pass (10 to 15 minutes) before taking another inhale. This way you won't overdo it on your first session.
Ingredients
D8 THC distillate, terpenes
Recent Items Viewed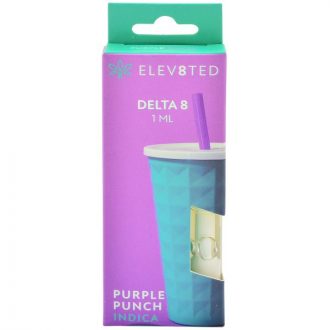 Elev8ted Labs Vape Cartridge has a lot of good things going for it. We'll start with the most obvious (based on the product name) and that's the infusion of Purple Punch inspired terpenes. These terps come from botanical sources but they have the same ratio, aka terpene profile, as this fabulous cannabis strain. Therefore, you can anticipate flavors that are fruity, sour, berry-like, along with a hint of honey to sweeten the deal. In addition, there's a clean, lab-tested source of hemp in this cart. More specifically, there's 94% Delta 8 THC distillate in this 1 gram cart. And it's undergone thorough testing that includes checking for pesticides, residual solvents, heavy metals, microbial, and mycotoxins. All of which showed non-detectible levels.