Customers Who Viewed This Item Also Viewed
Product Description
Wholesale Elektra CBD flower has solid resin content, strong terpenes, and overall great potency thanks to its ACDC mother, coming in at a hefty 19.72% CBDA and .28% CBD. She also boasts several other beneficial cannabinoids like CBC and CBG and smells amazing, a mixture of pine and fruity sweetness. Elektra has become the recent favorite strain here at Dr.Ganja and there's no wonder why: she hits hard!
Genetics
AC/DC x ERB
Appearance
Elektra's moist, sticky-to-the-touch and dense nugs are medium in size and rich with bright green color. I'm easily able to give it a 9 out of 10 on the density scale. The visual appeal is also something to be noted on this product – you can clearly observe the striking detail of the terpenes covering the flower. This premium batch of hemp is comprised of nice hand trimmed green nugs for your viewing, smelling, and tasting pleasure. Dr.Ganja has the goods.
Smell
Elektra CBD hemp flower is one of the most aromatic CBD hemp flowers we have tried. As soon as you open the bag the smell is strong and desirable – a bit of a piney sweet smell. To say we were blown away at the savory scent is an understatement. And we do this every day. Whoa!
Taste
The piney flavor really stands out when vaped or smoked and definitely performs on point with any of the primo cannabis we've tried. At first impression, you taste a hint of sweet citrus before it melts into more of the earthy flavors. We were very surprised at how smooth it really was.
Effects
It took only seconds to feel its effects. The Elektra flower is right up there with the rest of the premium product, but surprisingly, for much cheaper. In fact, it's at an unbelievable price point for the amount of CBD it contains. This makes it a perfect product for joint pain, backaches, headaches and just about any other ache you might have. No doubt, this flower will definitely help you relax and put you in a great mood.
Packaging & Shipping
All our hemp flower is double-wrapped and packed in airtight mylar bags. There is no smell or odor. All of the CBD flower we carry at Dr.Ganja is shipped quickly and discreetly.
Wondering if we can ship to you? Check out our shipping info.
Product Size & Info 
Dr.Ganja Elektra CBD hemp flower is available in 2 gram, 3.5 grams, 7 grams, 1 ounce size and 8 ounce weight increments. It's tested at 19.72% CBDA and contains less than 0.3% Delta 9 THC.
Note
Grown in the USA.
Technical Specs
The lab reports can also be found in the images above.
Cannabinoid Profile
CBDA 15.030%
CBGA .292%
CBD 1.942%
CBG .074%
CBC .174%
CBDV .058%
D9-THC .244%
THCA .313%
Total Measured Cannabinoids 16.2047%
Top 3 Terpenes
β-Myrcene,β-Caryophyllene, α-Pinene
Terpene Profile
beta-Myrcene .76%
beta-Caryophyllene .17%
alpha-Pinene .15%
alpha-Bisabolol .07%
Limonene .07%
beta-Pinene .06%
alpha-Humulene .05%
Guaiol .05%
Ocimene .04%
Terpinolene .03%
Linalool .03%
trans-Nerolidol .02%
Total Measured Terpenes 1.49%
Pesticides
No pesticides detected. We test all of our flower at Dr.Ganja to make sure what you're consuming is pure and safe. Check out the attached safety pesticide lab reports in the images.
Microbials
This flower was tested for microbial impurities and yielded immaculate results, no microbial activity of any kind.
Mycotoxins
This flower was also tested for mycotoxins and all tests came back negative, none detected.
Heavy Metals
Dr.Ganja Elektra CBD flower was examined for heavy metals and tested below the limits set forth by the BCC.
Recent Items Viewed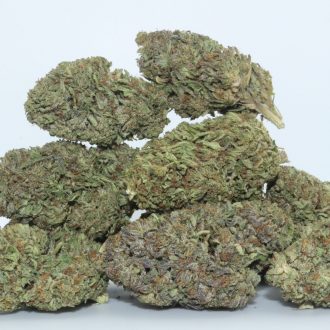 The Bubba Kush strain is known worldwide for its relaxing qualities. With beautiful pine and dark green hues and a deep earthy smell, this dense flower is a treat for all the senses.