Customers Who Viewed This Item Also Viewed
Product Description
A relatively new strain here at Dr.Ganja wholesale, Cherry Abacus is, as they say, one for the books.
A cross between Cherry and Abacus, CA was made in an effort to capitalize on the very strong berry terpene profiles between the two strains. The unification of these instead brought forth a CBD heavy-hitter. Coming in at over 20% CBDA (20.38% to be exact), Cherry Abacus is STRONG and very potent when it comes to relief. Many users have reported her to deal with anxiety and pain well.
CA has a beautiful dark color, is properly cured, and has a unique aroma of pine, diesel, and a hint of berry sweetness. There's really nothing to dislike here but everything to like, from the effects, to the smell, to the taste. Get it before its gone.
What's in your bud?
Genetics
Cherry x Abacus
Appearance
Very dense clusters that range from small to large. Darker greens with trichromes throughout that become even more apparent when you break the nugs apart; each leaf and stem is crystal-covered. The somewhat short leaves may hint at the indica-dominant nature of the plant.
Smell
There's a dominant smell of pine with a little diesel of fuel-like smell and a touch of berry sweetness that can be hard to miss.
Taste
The berry subtleties come out when using a vaporizer but they stay hidden if you're just combusting her. The pine and diesel flavors are perpetuated no matter the method, though.
Effects
Cherry Abacus is strong, no doubt about it. The sensations start in the head but move throughout the body and linger there for some time. Cherry seems to have more indica characteristics making this ideal to consume during nighttime or after the day has finished, but that certainly doesn't mean you can't take her in the morning, if you were so inclined.
Packaging & Shipping
All our hemp flower is double-wrapped and packed in airtight mylar bags. There is no smell or odor. All of the CBD flower we carry at Dr.Ganja is shipped quickly and discreetly.
Wondering if we can ship to you? Check out our shipping info.
Product Size & Info 
Dr.Ganja Cherry Abacus CBD Flower is available in 2 gram, 3.5 grams, 7 grams, 1 ounce and 8 ounce size increments. It's contains less than 0.3% Delta 9 THC.
Note
Grown in the USA.
Technical Specs
Cannabinoid Profile
CBDA 20.80%
CBD 1.284%
CBGA .336%
CBG .120%
CBC .104%
D9-THC .163%
THCA .652%
Total Measured Cannabinoids 20.779%
Top 3 Terpenes
β-Myrcene, β-Caryophyllene, α-Pinene
Terpene Profile
beta-Myrcene .79%
beta-Caryophyllene .32%
alpha-Pinene .22%
alpha-Bisabolol .13%
alpha-Humulene .09%
Limonene .08%
Trans-Nerolidol .08%
beta-Pinene .06%
Linalool .04%
Guaiol .04%
Ocimene .02%
Total Measured Terpenes 1.86%
Pesticides
No pesticides detected. We test all of our flower at Dr.Ganja to make sure what you're consuming is pure and safe. Check out the attached safety pesticide lab reports.
Microbials
Dr.Ganja Cherry Abacus CBD flower was tested for microbial impurities and yielded immaculate results, no microbial activity of any kind.
Mycotoxins
Dr.Ganja Cherry Abacus CBD flower was also tested for mycotoxins and all tests came back negative, none detected.
Heavy Metals
Dr.Ganja Cherry Abacus CBD flower was examined for heavy metals.
Recent Items Viewed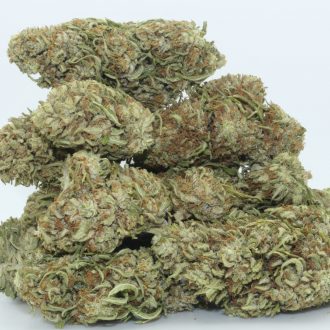 Brand spankin' new DrGanja wholesale CBG flower. Haven't heard of CBG? Many in the industry believe CBG's therapeutic benefit will surpass CBD once it becomes more well-known. CBG flower won't get you "high", but will make you feel relaxed and at ease.