Customers Who Viewed This Item Also Viewed
Product Description
CBG is known as the "mother" of other cannabinoids because the dominant cannabinoid in this flower, CBGA, is the chemical "mom" of popular cannabinoids found in hemp like THCa, CBDa, CBCa, and CBG.
Research on CBG's effects on health have shown them to be very similar to CBD as a potent anti-inflammatory, neuroprotective, and pain-killer, but CBG has also been seen as a strong agent against cancerous cells (the research is young but promising).
This CBG flower contains dominantly CBGA and has a very soothing effect on consumption. Get it quick, because this is definitely the next big thing.
Batch # O100419Z
What's in your bud?
Genetics
The White (infamous cannabinoid-rich variety)
Appearance
The genetics don't lie here; this might as well be named "The White" itself. This flower has the common light greens, browns, and oranges you find in hemp, but also has a unique shade of white that is persistent throughout.
Smell
The smell is subtle but very woody, reminiscent of hay and cedar. A very refreshing and earthy scent.
Taste
As with all hemp flower, if you're looking to get anything out of the taste then you're looking at a vaporizer. Vaporizing this produces, much like the smell, a very clean and subtle woody taste. Nothing about this flower is overpowering, it is calm, subtle, and sweet.
Effects
CBG flower's effects are mild and pleasant on their own, somewhat similar in nature to CBD, but where its true strength lies is in its sociability. It has been said to a "potentiator" of other strains; in that if you use it before you consume your favorite strain, or mix it half-and-half with other strains, the effect of the other strain is heightened in both effect and duration. Mixing this with some of the Bubba Kush we have on the site amplified the effects so much so that we had to lie down and take a nap. Five stars!
Packaging & Shipping
All CBD flower is double-wrapped and packed in airtight mylar bags. There is no smell or odor. All of the CBD flower we carry at Dr.Ganja is shipped quickly and discreetly.
Wondering if we can ship to you? Check out our shipping info.
Product Size & Info
Dr.Ganja CBG Hemp Flower is available in 2 gram, 3.5 grams, 7 grams, 1 ounce and 8 ounce size increments. It's contains less than 0.3% Delta 9 THC.
Grown in the USA.
Note
This product is sold and shipped only within the United States. This product does not ship internationally.
Technical Specs
Cannabinoid Profile
CBGA 11.050%
CBG .275%
CBC .059
D9-THC .033%
THCA .128%
Total Measured Cannabinoids 10.170%
Top 3 Terpenes
β-Caryophyllene, α-Bisabolol, Guaiol
Terpene Profile
beta-Caryophyllene .15%
alpha-Bisabolol .09%
Guaiol .07%
alpha-Humulene .04%
beta-Myrcene .03%
trans-Nerolidol .02%
Limonene .02%
Total Measured Terpenes .19%
Pesticides
No pesticides detected. We test all of our flower at Dr.Ganja to make sure what you're consuming is pure and safe. Check out the attached safety pesticide lab reports.
Microbials
This flower was tested for microbial impurities and yielded immaculate results, no microbial activity of any kind.
Mycotoxins
This flower was also tested for mycotoxins and all tests came back negative, none detected.
Heavy Metals
This CBG flower was examined for heavy metals and tested below the limits set forth by the BCC.
Recent Items Viewed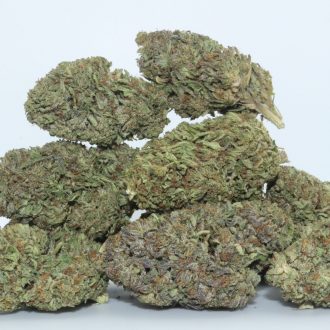 The Bubba Kush strain is known worldwide for its relaxing qualities. With beautiful pine and dark green hues and a deep earthy smell, this dense flower is a treat for all the senses.