Customers Who Viewed This Item Also Viewed
Product Description
This Delta 8 Vape Cartridge by Canna River has a delicious blend of natural terpenes specific to the Banana Split strain. Like the classic and timeless scrumptious dessert, the flavors and aroma of the vapor have sweet cherry, banana, and creamy notes. It's a Sativa-dominant hybrid cannabis strain that's a cross of Banana Sherbert and Tangie. Users who smoke or vape this plant say it offers a clear-headed high along with the motivation to "get up and go." Therefore, it's great for getting stuff done, but at the same time is the perfect type of buzz when you just want to feel good and enjoy the day ahead.
Also, this product includes a medium-strength dose of approximately 750mg of Delta 8 THC extracted from hemp. The company has this cart lab tested by a third-party to confirm the potency. With the strength of this dose, it's the perfect formula for those who are brand new to vaping D8 or those with tons of experience. Either way, vaping lets you control the intensity of effects based on how many draws you take from the mouthpiece and with what intensity. In other words, you're able to customize each session based on the time of day or how you're feeling at the time.
In addition, this vape cart has an all-natural formula, which makes the Banana Split terpenes that much sweeter. There are no agents or additives to dilute the tasting notes or lower the intensity of the D8-THC effects. And finally, to ensure vibrant tasting flavors and a smooth vapor, you'll want to set your 510-thread battery on a low voltage setting.
What is Delta 8 THC?
Cannabinoids are the chemical compounds that are secreted from the cannabis plants as resin that have the ability to interact with our bodies Endocannabinoid System. Delta 8 THC is a cannabinoid that occurs in much smaller concentrations than most other cannabinoids.
Delta 8 is considered to be an isomer that forms as Delta-9 THC ages and oxidizes. This process increases the stability of the Δ8 molecular structure so that it does not degrade as easily and lasts much longer over time.
It should be noted that Delta-8 THC and Delta 9-THC contain similarities in their molecular structure. Both contain double bonds, but D8 contains the bond on the 8th carbon chain and not on the 9th. For that reason, D8 and D9 THC react similarly within the Endocannabinoid receptors in the body as a result of their similar presentation of structure and properties.
D8 requires an intricate process of extraction, isolation, conversion and refinement. With Δ8 there are benefits and effects to serve both medicinal and recreational consumers. Due to the fact that D8 is found in smaller concentrations, it is most often sold in the form of distillates or edibles.
The compound Δ8 is legally derived from hemp and does not contain more than 0.3% Δ9-THC in accordance with the Agricultural Improvement Act of 2018 (also known as the 2018 Farm Bill). Within the Bill, it states that all derivatives, isomers and cannabinoids in hemp are federally legal provided that all final products contain less than 0.3% D9 THC.
If you are subject to routine drug screenings, do not consume Δ8-THC.
Each state has their own separate laws regarding hemp products. Please be aware of the laws within your state/province of residence.
Psychotropic potency of Delta 8 THC will often vary. For this reason, please do not operate a vehicle after consuming Δ8 products.
Consult your doctor before use.
Product Size
1 gram
Suggested Use
After attaching the vape cart onto your battery take one small pull from the mouthpiece. Then wait at least 10 to 15 minutes for the effects to settle in before consuming more. For best results, wait for the battery to cool down in between hits.
Ingredients
Delta 8 THC distillate and natural terpenes
Recent Items Viewed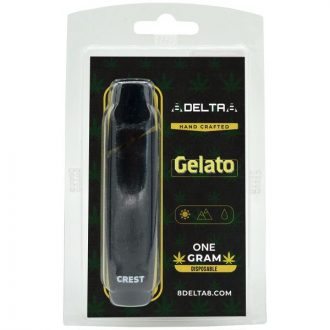 Gelato D8 will excite your taste buds with its sweet rainbow sherbet-like flavors. Lavender like flavors will captivate your senses along with hints of orange citrus and woody pine aromas. Gelato also offers an inspiring wave of blueberry flavored euphoria that will slowly splash over you in the form of a nice body buzz and an energized creativity. Gelato D8 is now available in an on-draw activated disposable vape pen by 8Delta8. Vape pens have a fully charged 350mAh battery and are set at a regulated 3.7v for satisfying puffs. Each tank is filled with 1 full gram of 92% Delta 8 THC and Gelato specific natural terpenes. Add a Gelato Δ8 disposable vape pen to your cart today and give yourself a piece of the rainbow that you can taste and feel.