Customers Who Viewed This Item Also Viewed
Product Description
Canna River's Delta 8 Tincture is one high potency formula delivering 3,000mg or more of this cannabinoid extracted from hemp. Since the oil comes in a 60ml bottle, each serving has about 50mg of Delta 8 THC per ml. Even though this is a high-strength tincture, it's still suitable for all experience levels. For someone brand new to D8, all you'd have to do is start with a small dose, such as 10mg at a time.
This means filling the dropper to about one-fourth of the way full and placing the drops under your tongue. Or you have the option to add some of this tincture to a favorite snack like yogurt, or inside a smoothie. Ultimately, the versatility of the product lets you call the shots on how best it works in your daily life and wellness routine.
Also, all the ingredients in this tincture are non-GMO and vegan- and vegetarian-friendly. The base of the tincture is organic MCT oil for quick and easy absorption into your body. In addition, this is a sugar-free product that's also free of artificial flavors and colorings.
Even more, the hemp used in the creation of this product comes from USA farms. The farms have licenses and certifications to grow hemp in their state, which ensures high-quality output. Therefore the Delta 8 THC hemp extract in Canna River's tincture is top-notch. And to verify the potency of Delta 8 in milligrams, the company has its products tested by a third-party lab.
What is Delta 8 THC?
Cannabinoids are chemical compounds secreted from cannabis plants as resin. They have the ability to interact with our body's Endocannabinoid System (ECS). Delta 8 THC is a cannabinoid that occurs in much smaller concentrations than most other cannabinoids.
Delta 8 is an isomer that forms as Delta-9 THC ages and oxidizes. This process increases the stability of the Δ8 molecular structure so that it does not degrade as easily and lasts much longer over time.
Delta-8 THC and Delta 9-THC contain similarities in their molecular structure. Both contain double bonds, but D8 contains the bond on the 8th carbon chain and not on the 9th. For that reason, D8 and D9 THC react similarly within the Endocannabinoid receptors in the body as a result of their similar presentation of structure and properties.
D8 requires an intricate process of extraction, isolation, conversion, and refinement. With Δ8 there are benefits and effects to serve both medicinal and recreational consumers. Because D8 occurs in smaller concentrations, it's common to see it sold in the form of distillates or edibles.
The compound Δ8 legally derives from hemp and contains less than 0.3% Δ9-THC in accordance with the Agricultural Improvement Act of 2018 (also known as the 2018 Farm Bill). Within the Bill, it states that all derivatives, isomers, and cannabinoids in hemp are federally legal provided that all final products contain less than 0.3% D9 THC.
If you are subject to routine drug screenings, do not consume Δ8-THC.
Each state has its own separate laws regarding hemp products. Please be aware of the laws within your state/province of residence.
Psychotropic potency of Delta 8 THC will often vary. For this reason, please do not operate a vehicle after consuming Δ8 products.
Consult your doctor before use.
Product Size
60ml 3000mg Delta 8 THC
Suggested Use
If you're new to D8, fill the dropper up 1/4th of the way and then wait at least 2 to 3 hours before dosing with more. Place the tincture under your tongue or add to food or a beverage of choice.
Ingredients
Organic MCT oil, Delta 8 THC hemp extract, food-grade flavoring, and sucralose
Recent Items Viewed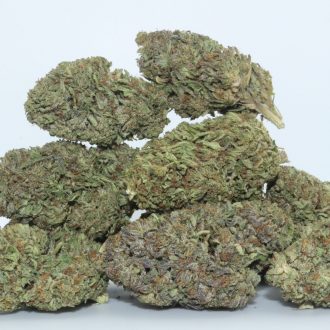 The Bubba Kush strain is known worldwide for its relaxing qualities. With beautiful pine and dark green hues and a deep earthy smell, this dense flower is a treat for all the senses.