Customers Who Viewed This Item Also Viewed
Product Description
The Bubba Kush strain, the legendary flower known worldwide for its relaxing qualities. Bubba Kush CBD genetics hail more from the indica side of things, and if its stocky and somewhat short leaves weren't enough of an indication, its fine-tuned balance of body and mind effects are!
Genetics
Pre 98 Bubba Kush x CBD mother not to be confused with Platinum Bubba Kush which is a cross of OG Kush and Bubba Kush.
Appearance
Beautiful dark green hues are present throughout with purple tinges that accent the stout and dense leaves of the flower. The pure Bubba Kush seeds sprouting with rustic orange hairs, these nugs are frosty and covered in trichromes, or the small white hairs that cover the hemp leaves and stem.
Smell
A unique terpene profile makes for a very unique aroma with the ol' Kush, earthy and deep with a hint of pinesol.
Taste
The Bubba Kush strain has a wintergreen and sweet grass taste (vape for the best taste!).
Effects
It provides instant relief; it's got all the good genetics of Bubba Kush with the added benefit of cannabidiol. After consuming it, you're hit with a nice wave of mellow energy that's balanced between body and mind. Pain and anxiety fade to the background. Going for a walk sounds good, but taking a nap does too.
This flower has a very interesting cannabinoid profile and resulting medicinal effect, this CBD-enhanced version of the Bubba Kush strain contains not only CBD but CBC and CBGA too!
Packaging & Shipping
Packages are double-wrapped and packed in airtight mylar bags. There is no smell or odor. All the products we carry at Dr.Ganja are shipped quickly and discreetly.
Wondering if we can ship to you? Check out our shipping info.
Product Size & Info
Dr.Ganja Bubba Kush Strain is available in 2 gram, 3.5 grams, 7 grams, 1 ounce and 8 ounce size increments. It's contains less than 0.3% Delta 9 THC.
Note
Grown in the USA.
Technical Specs
Cannabinoid Profile
CBDA 17.810%
CBGA .543%
CBD .231%
D9-THC LOQ
THCA .736%
Total Measured Cannabinoids 16.1972%
Top 3 Terpenes
β-Caryophyllene, δ-Limonene, β-Myrcene,
Terpene Profile
beta-Caryophyllene .37%
delta-Limonene .20%
beta-Myrcene .14%
alpha-Bisabolol .15%
alpha-Humulene .11%
Linalool .05%
Guaiol .05%
trans-Nerolidol .05%
beta-Pinene .03%
Total Measured Terpenes 1.10%
Pesticides
No pesticides detected. We test all of our flower at Dr.Ganja to make sure what you're consuming is pure and safe. Check out the attached safety pesticide lab reports.
Microbials
Dr.Ganja Bubba Kush was tested for microbial impurities and yielded immaculate results, no microbial activity of any kind.
Mycotoxins
Dr.Ganja Bubba Kush was also tested for mycotoxins and all tests came back negative, none detected.
Heavy Metals
Dr.Ganja Bubba Kush was examined for heavy metals.
Recent Items Viewed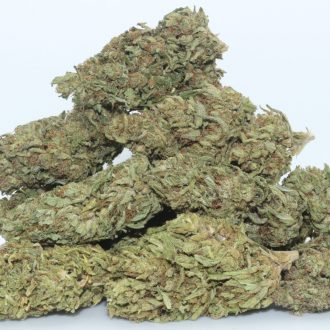 If you see OG in the name, you already know it's going to be good. OG Lime is a newcomer whose citrus smell and taste is a reminder of its terpene-heavy heritage. This strain holds a nice balance between indica and sativa effects, just as a hybrid should.