Customers Who Viewed This Item Also Viewed
Product Description
With the influx of many of our indica-dominant strains of late such as Spectrum and Cherry Abacus, good ol' original Abacus here rounds out the more hybrid or sativa-leaning stock with a steady and upbeat sensation. One of the stickiest hemp flower we've had the pleasure of putting our hands on, simply pulling apart a single nug will be enough to cover your fingers in sticky goodness.
While many have reported Abacus to be an indica-dominant strain, those have actually consumed this flower will be immediately aware of the more energizing effects, especially if taken in the morning or afternoon. Her hybrid nature does become evident if taken in extremely high quantities, although most users will enjoy the more sativa-like benefits at normal consumption levels. A great mood-enhancer, Abacus has the tendency to leave a smile on your face, which makes it a great strain for current times.
Due to the high resin content (the aforementioned stickiness), Abacus will also likely be a great candidate for those looking to make their own extracts or oils.
Batch # D120420CH
What's in your bud?
Genetics
Unkown
Appearance
We describe many of our flower here at Dr.Ganja as dense and sticky, but this one might take the cake. Looking like an evergreen tree dipped in crystal and then bound up, these nugs are definitely packing serious potency.
Smell
Abacus is dark and musty. Surprisingly similar to our Sour Blackberry Kush 2 in smell, she has an incense-like aroma that resembles mushrooms and earth; very unique and enticing.
Taste
Abacus doesn't present too much on the flavor profile and has a taste that is reminiscent, albeit fainter, than her smell. It is earthy, woody, and slightly funky, although her effects make-up for what she may lack in aroma. Additionally, as she doesn't stink up an entire room upon consumption, some users may prefer these discreet qualities.
Effects
Well-balanced premium hemp strains are some of our favorite at Dr.G and Abacus here has thus become one of our favorites. Another evenly distributed head and body "high", one of Abacus' best characteristics is her mood enhancement. We found ourselves smiling about nothing after taking her, which is a welcome addition at any time of day. Her hybrid nature comes through via quantity: if consumed in high doses she can leave users feeling tired, so those who enjoy long smoking sessions may yield a more indica effect. If sticking to the daytime, a puff here and there will leave you feeling happier and partially energized.
Packaging & Shipping
All our hemp flower is double-wrapped and packed in airtight mylar bags. There is no smell or odor. All of the CBD flower we carry at Dr.Ganja is shipped quickly and discreetly.
Wondering if we can ship to you? Check out our shipping info.
Product Size & Info 
Dr.Ganja Abacus CBD hemp flower is available in 2 gram, 3.5 grams, 7 grams, 1 ounce and 8 ounce size increments. It's tested at 20.150% CBDA and contains less than 0.3% Delta 9 THC.
Note
Grown in the USA
Technical Specs
Cannabinoid Profile
CBDA 18.00%
CBGA .780%
CBD .163%
CBG .061%
CBC .015%
THCV .013%
D9-THC .025%
THCA .743%
Total Measured Cannabinoids 17.399%
Top 3 Terpenes
α-Pinene, β-Caryophyllene, β-Myrcene
Terpene Profile
alpha-Pinene .79%
beta-Caryophyllene .59%
beta-Myrcene .53%
alpha-Humulene .16%
delta-Limonene .14%
trans-Nerolidol .09%
alpha-Bisabolol .07%
Ocimene .07%
Linalool .05%
Total Measured Terpenes 2.67%
Pesticides
No pesticides detected. We test all of our flower at Dr.Ganja to make sure what you're consuming is pure and safe. Check out the attached safety pesticide lab reports.
Microbials
Dr.Ganja Abacus CBD flower was tested for microbial impurities and yielded immaculate results, no microbial activity of any kind.
Mycotoxins
Dr.Ganja Abacus CBD Flower was also tested for mycotoxins and all tests came back negative, none detected.
Heavy Metals
Dr.Ganja Abacus CBD Flower was examined for heavy metals.
Recent Items Viewed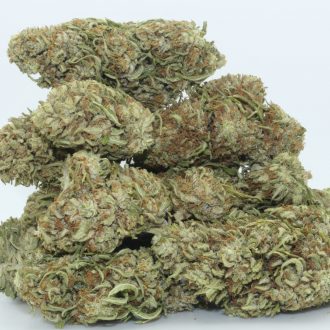 Brand spankin' new DrGanja wholesale CBG flower. Haven't heard of CBG? Many in the industry believe CBG's therapeutic benefit will surpass CBD once it becomes more well-known. CBG flower won't get you "high", but will make you feel relaxed and at ease.