Customers Who Viewed This Item Also Viewed
Product Description
If you love sweet citrusy lemon flavors, you will without a doubt be drawn to Lemon Haze D8.
It is a simple yet complex experience of sour lemon with a nice sugary aftertaste that lingers on the taste buds. Plus if you're needing a bit of a lift, Lemon Haze is key. It will have you up in no time and ready to tackle whatever you have on your to-do list for the day.
A sativa dominant strain, Lemon Haze is considered to have around a 70/30 sativa/indica ratio. The strain is a result of a crossing between Silver Haze and Lemon Skunk. Lemon Skunk is where Lemon Haze draws its energetic citrus buzz, while Silver Haze lends its metal clarity effects for a perfect blend for day time use.
Lemon Haze D8 Vape Cartridge is filled with 92% Delta 8 THC and terpenes derived from hemp for an exceptional buzz and downright tasty vape. 8Delta8 ensures a high quality vape experience with each cart containing a ceramic coil and on-draw mouthpiece. Each cart is ready for use with a 510 threaded vape pen with low or variable voltage.
Delta 8 THC distillate may feel harsh as a result of high purity. In order to find your exact comfort level, it is recommended to take slow, short puffs to test the vapor throat feel.
Everyone needs a little Lemon Haze D8 in their lives! So don't wait, pick up a cartridge and add it to your day time vape rotation today!
What is Delta 8 THC?
Cannabinoids are the chemical compounds that are secreted from the cannabis plants as resin that have the ability to interact with our bodies Endocannabinoid System. Delta 8 THC is a cannabinoid that occurs in much smaller concentrations than most other cannabinoids.
Delta 8 is considered to be an isomer that forms as Delta-9 THC ages and oxidizes. This process increases the stability of the Δ8 molecular structure so that it does not degrade as easily and lasts much longer over time.
It should be noted that Delta-8 THC and Delta 9-THC contain similarities in their molecular structure. Both contain double bonds, but D8 contains the bond on the 8th carbon chain and not on the 9th. For that reason, D8 and D9 THC react similarly within the Endocannabinoid receptors in the body as a result of their similar presentation of structure and properties.
D8 requires an intricate process of extraction, isolation, conversion and refinement. With Δ8 there are benefits and effects to serve both medicinal and recreational consumers. Due to the fact that D8 is found in smaller concentrations, it is most often sold in the form of distillates or edibles.
The compound Δ8 is legally derived from hemp and does not contain more than 0.3% Δ9-THC in accordance with the Agricultural Improvement Act of 2018 (also known as the 2018 Farm Bill). Within the Bill, it states that all derivatives, isomers and cannabinoids in hemp are federally legal provided that all final products contain less than 0.3% D9 THC.
If you are subject to routine drug screenings, do not consume Δ8-THC.
Each state has their own separate laws regarding hemp products. Please be aware of the laws within your state/province of residence.
Psychotropic potency of Delta 8 THC will often vary. For this reason, please do not operate a vehicle after consuming Δ8 products.
Consult your doctor before use.
Product Size
1ml of Delta 8 THC
Suggested Use
To discover the amount of Delta-8 THC that is right for you, we recommend that you begin with a slow single pull from the mouthpiece of the cartridge. Wait 10 minutes and then gradually increase your intake as needed. Discontinue use if any adverse reactions occur.
Ingredients
D8 THC distillate, terpenes
Recent Items Viewed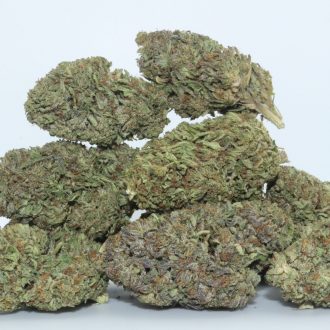 The Bubba Kush strain is known worldwide for its relaxing qualities. With beautiful pine and dark green hues and a deep earthy smell, this dense flower is a treat for all the senses.