Customers Who Viewed This Item Also Viewed
Product Description
Are you looking for some day time inspiration? Well, look no further than Green Crack D8! Green Crack has been a long-time favorite sativa dominant named by none other than Snoop Dog himself. It offers an exhilarating mood boost and feelings of energetic creativity.
This amazing strain offers a delightful citrusy fruit blend of flavors. Some liken the flavors to that of sweet mango juice with a noted earthiness. Feelings of tanginess will be on the tip of your tongue leaving you satisfied and ready for anything your day throws at you.
Green Crack D8 is the hot ticket for energy, but won't have you over-jittery or send you crashing hard. It is perfect for early morning focus and a daytime pick me up. It will get your creative juices flowing with a little spacy cerebral journey to only the best places in your mind.
Green Crack has been known to be referred to as just Cush or Green Cush for those who would like to avoid the negative connotations that come with the word "crack".
The Green Crack strain is known for its pleasant sativa dominant 65/35 sativa/indica ratio. Its known lineage originates from its breeding with a hybrid Skunk No.1 strain. There is also a second version of the strain that is a indica dominant 75/25 indica/sativa ratio. This version of the classic strain seems to be less popular and more difficult to find.
The 8Delta8 Green Crack Δ8 Cartridge is filled with 1ML of 92% Delta 8 THC derived from hemp and natural terpenes to maximize your D8 experience. The glass cartridge contains a ceramic coil and mouthpiece for ultimate performance and flavor.
Each cart is convenient to use with a 510 threaded vape pen with low voltage or variable voltage settings. Low voltage is always recommended due to the purity of the D8 distillate, as it may be harsh to first time users. For this reason, always take slow, short puffs at first to access your comfort level.
Get 8Delta8's Green Crack Δ8 Cartridge today for a double dose of positive vibes and energetic creativity!
What is Delta 8 THC?
Cannabinoids are the chemical compounds that are secreted from the cannabis plants as resin that have the ability to interact with our bodies Endocannabinoid System. Delta 8 THC is a cannabinoid that occurs in much smaller concentrations than most other cannabinoids.
Delta 8 is considered to be an isomer that forms as Delta-9 THC ages and oxidizes. This process increases the stability of the Δ8 molecular structure so that it does not degrade as easily and lasts much longer over time.
It should be noted that Delta-8 THC and Delta 9-THC contain similarities in their molecular structure. Both contain double bonds, but D8 contains the bond on the 8th carbon chain and not on the 9th. For that reason, D8 and D9 THC react similarly within the Endocannabinoid receptors in the body as a result of their similar presentation of structure and properties.
D8 requires an intricate process of extraction, isolation, conversion and refinement. With Δ8 there are benefits and effects to serve both medicinal and recreational consumers. Due to the fact that D8 is found in smaller concentrations, it is most often sold in the form of distillates or edibles.
The compound Δ8 is legally derived from hemp and does not contain more than 0.3% Δ9-THC in accordance with the Agricultural Improvement Act of 2018 (also known as the 2018 Farm Bill). Within the Bill, it states that all derivatives, isomers and cannabinoids in hemp are federally legal provided that all final products contain less than 0.3% D9 THC.
If you are subject to routine drug screenings, do not consume Δ8-THC.
Each state has their own separate laws regarding hemp products. Please be aware of the laws within your state/province of residence.
Psychotropic potency of Delta 8 THC will often vary. For this reason, please do not operate a vehicle after consuming Δ8 products.
Consult your doctor before use.
Product Size
1ml of Δ8
Suggested Use
To discover the amount of Delta-8 THC that is right for you, we recommend that you begin with a slow single pull from the mouthpiece of the cartridge. Wait 10 minutes and then gradually increase your intake as needed. Discontinue use if any adverse reactions occur.
Ingredients
D8 THC distillate, terpenes
Recent Items Viewed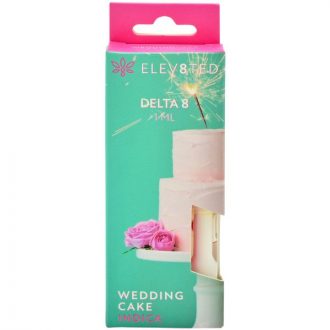 Finding a high-quality, insanely tasty, Delta 8 vape cartridge has never been easier thanks to Elev8ted Labs' lineup of carts. The company sources organically grown hemp, has its products tested by independent, third-party labs for purity and potency, and infuses solvent-free, botanical terpenes into the formula. It doesn't get much better than that. Well, it does because you're about to learn about the cart's flavor profile. And that's one juicy topic. With Wedding Cake inspired terpenes, this vape cartridge produces vapor that tastes and smells like a sweet and tangy dessert and features earthy and spicy notes. Also, the potency is a thing of beauty too, with approximately 940mg of Delta 8 THC distillate and the remaining 60mg (out of the 1 gram cart) comes from the terpenes.