Customers Who Viewed This Item Also Viewed
Product Description
Add an all time favorite to your D8 vape cart collection with 8Delta8's Grand Daddy Purp! With each toke you will be satisfied with amazing flavor and mesmerized by the mix of grape and berry aromas.
Get that peace and relaxation you've been longing for as well with GDP. You will delight in the fusion of euphoria and physical repose. You will need to find yourself a nice comfortable spot to chill as you will be floating dreamily within your mind as your body gently recovers from long stressful days.
GDP is an indica dominant hybrid strain with a 80/20 indica/sativa ratio. Although the ratio can vary, it is still very much a robust indica heavy hitter. This heavy chill strain is the result of a cross between Big Bud and Purple Urkle created by Ken Estes or the "medicine man" as he is known throughout the cannabis world.
The Grand Daddy Purp D8 Vape Cartridge is filled with 1ML of 92% Delta 8 THC and natural terpenes derived from hemp. All 8Delta8 carts are made to maximize satisfaction with ceramic coils and mouthpieces to ensure comfort, flavor and vapor production.
Be ready to get your psychedelic giggles on with Grand Daddy Purp followed by extreme relaxation and stress relief. But remember to take slow, small hits to adjust for the slight harshness of the D8.
The high purity of the Δ8 is the determining factor for this noted harsh effect and that is why it is recommended to use low voltage 510 threaded vape pens. Variable voltage vape pens will offer you the ability to find the perfect range for vapor production and flavor.
So it's time to lean back and add a Grand Daddy Purp Δ8 Vape Cartridge to your shopping cart and enjoy the convenience of this all time classic D8 being delivered straight to your door.
What is Delta 8 THC?
Cannabinoids are the chemical compounds that are secreted from the cannabis plants as resin that have the ability to interact with our bodies Endocannabinoid System. Delta 8 THC is a cannabinoid that occurs in much smaller concentrations than most other cannabinoids.
Delta 8 is considered to be an isomer that forms as Delta-9 THC ages and oxidizes. This process increases the stability of the Δ8 molecular structure so that it does not degrade as easily and lasts much longer over time.
It should be noted that Delta-8 THC and Delta 9-THC contain similarities in their molecular structure. Both contain double bonds, but D8 contains the bond on the 8th carbon chain and not on the 9th. For that reason, D8 and D9 THC react similarly within the Endocannabinoid receptors in the body as a result of their similar presentation of structure and properties.
D8 requires an intricate process of extraction, isolation, conversion and refinement. With Δ8 there are benefits and effects to serve both medicinal and recreational consumers. Due to the fact that D8 is found in smaller concentrations, it is most often sold in the form of distillates or edibles.
The compound Δ8 is legally derived from hemp and does not contain more than 0.3% Δ9-THC in accordance with the Agricultural Improvement Act of 2018 (also known as the 2018 Farm Bill). Within the Bill, it states that all derivatives, isomers and cannabinoids in hemp are federally legal provided that all final products contain less than 0.3% D9 THC.
If you are subject to routine drug screenings, do not consume Δ8-THC.
Each state has their own separate laws regarding hemp products. Please be aware of the laws within your state/province of residence.
Psychotropic potency of Delta 8 THC will often vary. For this reason, please do not operate a vehicle after consuming Δ8 products.
Consult your doctor before use.
Product Size
1ml of Delta 8 THC
Suggested Use
To discover the amount of Delta-8 THC that is right for you, we recommend that you begin with a slow single pull from the mouthpiece of the cartridge. Wait 10 minutes and then gradually increase your intake as needed. Discontinue use if any adverse reactions occur.
Ingredients
D8 THC distillate, terpenes
Recent Items Viewed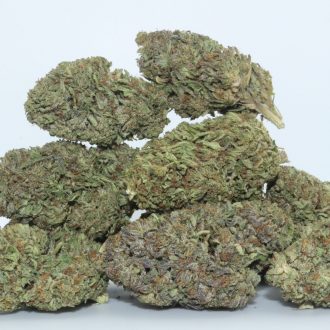 The Bubba Kush strain is known worldwide for its relaxing qualities. With beautiful pine and dark green hues and a deep earthy smell, this dense flower is a treat for all the senses.